Irish Greyhound Review 2023
The Perfect Christmas Gift from ONLY €20.00
The Irish Greyhound Review Annual is one of Ireland's longest surviving Annual sporting publications. The 45th Volume is now on sale and it follows the traditional path with its coverage of the entire Irish greyhound season.
The combined volumes of the Irish Greyhound Review form a history of the sport in this country while it also contains considerable coverage of the year in Britain.
Where can I buy the Irish Greyhound Review?
THE IRISH GREYHOUND REVIEW ANNUAL IS AVAILABLE FROM PUBLISHER AND ALL LEADING NEWSAGENTS & GREYHOUND SUPPLY STORES
The Irish Greyhound Review Annual retails at €20.00 (€25.00 incl p&p)
Stg£20.00 (Stg£25.00 incl p&p) and Published by Margaret Walsh
Irish Greyhound Review, P.O. Box 7993, Dun-Laoghaire, Co. Dublin, Ireland.
Tel: +353 (0)86 241 8080 Email: walshmgt57@gmail.com
Order your copy online
Purchase online on www.greyhoundandpetworld.com
email: gpw1389@gmail.com
Tel: 06831389
Purchase online on greyhoundsuperstore.co.uk
email: info@greyhoundsuperstore.co.uk
Tel: +44 1280824974
Purchase online on www.premarketpets.co.uk
email: patrickjanssens2@gmail.com
Tel: +44 1842337082
The 45th consecutive edition of the Irish Greyhound Review has been launched with BoyleSports Irish Greyhound Derby champion, Born Warrior, gracing the front cover.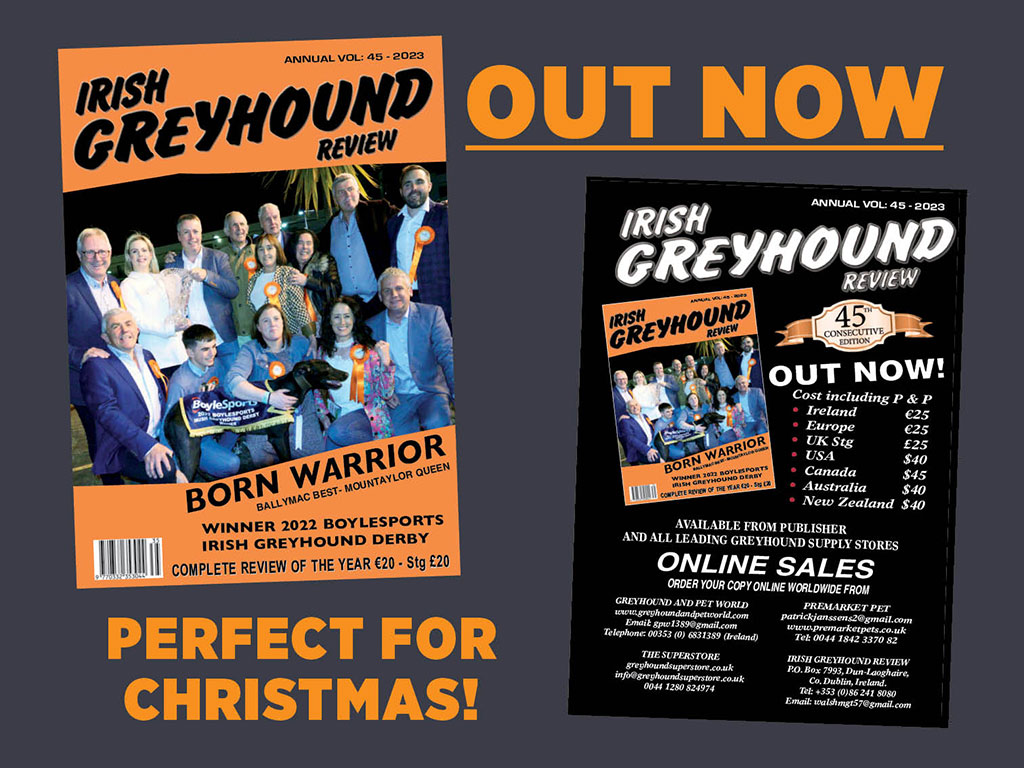 STUD DOG OF THE YEAR
Droopys Sydney is a clear-cut winner
Droopys Sydney (Duke Special-Droopys Laramie) is a runaway winner of the Irish Greyhound Review Annual Stud Dog of the Year Award for the Droopys Stud Kennels in Portlaw, Co. Waterford. He had a clean sweep this year easily winning every category, gaining a maximum score of 30 points. He was runner up last year to Droopys Jet losing out by a single point. He sired numerous winners including Swords Rex (Kirby Memorial, Limerick), One Time Only (Laurels, Cork), Raha Mofo (Oaks, Shelbourne Park) and Gaston Pecas (Produce Stakes, Clonmel). He also sired four finalists in this year's Derby.
2023 Irish Greyhound Review is on sale now