Meet some of the families in irish racing
OUR PEOPLE, THE GENERATIONS
Our People. In 2018, we had their stories. In 2020, we saw their day.
Now we meet the Generations.

We're very excited to bring you the next chapter in the Our People series: Our People, The Generations.
The hundreds of years of tradition that forms our sport.
The generations of families brought together
by their love of the dogs.
We stand for all that is good about our sport
and we are its future.
Because
THIS RUNS DEEP

Meet the Spillanes, County Cork
For Sheila Spillane it all began when she received her first greyhound from a neighbour when she was a young child, a bitch named Springfield Gift. From that moment on, the yard was never without a greyhound. She and her late father James would race Springfield Gift at the old Western Road.
However, it was the opening of Youghal track in 1948 that really cemented Sheila's attachment to the sport along with a romantic encounter! Her late husband, John, was a salesman for Keenans Sheds in Bagnelstown and came to price a shed locally when Sheila caught his eye, the rest as they say is history.
The pair were wed in 1957 and moved to the townland of Burgess where they set up kennels. They had four children, Con, Norma, Shelly and Mary, and were married for almost forty years until John's passing in 1996. Shelly unfortunately passed away in 2012, and the family created and sponsor the Shelly Fennelly Memorial in Curraheen Park to this day in her honour.
Sheila's kennel partnership with her son-in-law JJ (Shelly's husband) cemented the future for the Burgess prefix, with their 9-acre site proving to be a fantastic spot for rearing pups and they are now one of the most recognisable names in the sport.
Burgess Kennels continues to be a family affair with the numbers now expanded to include grandchildren and great-grandchildren along with her ex-racing greyhound Jimmy (Burgess Dubh), forever at her side. Sheila was inducted into the Greyhound Racing Hall of Fame in 2023, in recognition for her contribution to greyhound racing.
Meet the O'Regans, Waterford
The O'Regans of Waterford can trace the start of their love of greyhound racing back to Michael O'Regan, a butcher in Waterford who has a dog listed in the Stud Book of 1923. Once his grand-nephews Pa & Donal came along in the 1940's & 1950's they became part of the support team spending every weekend racing at Kilcohan Park Greyhound Stadium.
As Donal puts it "when one member of the family had greyhounds, it meant all the family were involved". They were (and still are) based in the city centre with a house that had a large back garden. While these gardens were mainly used for growing vegetables and keeping pigs during that time, it also gave the family the space to erect kennels and keep greyhounds.
Pa & Donal talk about their favourite memories during that time including Jos McDoaks (28 years ago), Highpath Rainbow (1993), Highpath Robbie (2007) and Brykar Fangio (named for his speed after Brazilian F1 Driver).
100 years on from their Grand-uncle, Pa & Donal now have their own support team with Pa's grandchildren Cian & Brianna and Donals daughter Katy all involved. Still located in that original house where it all began, they now have 5 racing greyhounds and 1 retired greyhound in the kennels. It really has continued to be a family affair!
Meet the Mullins, County Galway
The Mullins of Gort have a greyhound sporting heritage going back to the 1960's. It all starts with Noel Mullins. Little did he know then as he headed to Galway on a Tuesday & Friday night with nephew Sean in tow, that it would set the seeds for a life long involvement in the sport and encourage the generations after him to continue.
A big treat at the time was going to Limerick on a Saturday night for the major events (including the Kennedy Cup & Irish St. Leger). Some of the best wins (and memories) happened at Clonmel with home bred greyhounds and included Spring Wood Munster Puppy Cup (1981) followed by Spring Play winning the National Produce Stakes (1984). This fired the passion of the sport for the family, as anyone who enjoys success will know with success comes the challenge to continue achieving top-class winners!
In more recent years Sean has had a very successful partnership with his friend Ollie Curtin and their first litter resulted in Derby Finalist Carrowgarriff (2013), an amazing achievement for any kennel. Many fans will know them however for the litter sisters extraordinaire, Dana Point (twice winner at the Night of Stars, Dublin Marathon and recipient of Stayer of Year 2021) and Miss Joss (winner of Christmas Oaks).
These days Noel, Sean and Ollie are joined by Seans daughters Eleanor & Isabel and niece Makayla. All 3 girls have continued the family passion for the sport getting involved in the day-to-day care of greyhounds (including being the assistants at trial sessions) and proudly bringing winning trophies and sheets to school for Show and Tell! The legacy of the Mullins of Gort continues to live on.
Meet the Buggys, County Carlow
The Buggy Family can trace their history in greyhound racing back to a Greek Myth!
The story starts with Mum Mary receiving her first greyhound named Greek Myth at the age of 13. She raced him at her local tracks of Kilkenny & Enniscorthy and it was from there that her lifelong involvement in the sport started!
When Mary married Larry, she brought greyhounds with her to her marital home where she still resides, trains and breeds greyhounds to this day. When children Rose and Thomas came along, the hobby developed into the family business (which they now manage alongside another business).

Nights out at Shelbourne Park or their local track Kilkenny (where they still race most of their greyhounds and credit the great job being done there in helping them to achieve success elsewhere as it is where all their greyhounds get their start) not only are the family business but also the family social outings. They are now joined by the next generation of Una and Silé, so the future is looking bright.
These days Team Buggy have over 30 greyhounds at home, 6 retired greyhounds as pets, two of them with significant history of their own.
Kilgraney Tomson (who was bred at home to their own Stud Dog and Brood Bitch) is now 11 years old and enjoying his retirement in Carlow but would be known to many as the winner of the Tipperary Cup at Thurles in 2013 and the Tote Gold Cup at Shelbourne Park in 2014. He is joined by Kilgraney Ace who was a Derby semi-finalist and is now 8 years old.
One of the highlights for the family to date was having an Irish Derby Finalist in the 2021 Final - Carrigeen North, trained by Thomas and supported by the entire family, making it a true multi-generational effort.
Meet the Hennessys, County Kilkenny
The Hennessy family need no introduction to many.
A proud Kilkenny man, Paul Hennessy is recognised as one of Irelands leading greyhound trainers. He is a two-time winner of the English Greyhound Derby, a winner of the Irish Greyhound Derby and three-time winner of the Scottish Greyhound Derby.
He gained his first success back in 1986 with the Tipperary Cup and has not stopped since!
A proud Kilkenny man, this family business is very much just that as Paul works side by side with his wife Susan (who herself comes from a well known greyhound racing family) and several of his family have followed him into different aspects of the greyhound racing industry.
The next generation has begun with the arrival of grand-daughters Hazel Jane and Leah and grandson Liam Óg.
Paul also trained the famous Late Late Show, who captured imagination of the Irish public with his performances in the early 2000's. On his retirement he remained with the Hennessy Family until his death at the age of 13.
Paul currently has 3 ex-Derby winners in his kennels enjoying their retirement - Priceless Blake (English Derby Winner age 6), Jaytee Jet (English Derby Winner age 9) and Barefoot Allstar (age 13).
Meet the Maguires, County Waterford
Meet the Maguires from Co. Waterford - Jimmy & Stephanie. A father and daughter with a shared love of greyhounds.
The Maguire's race under the prefix Daring and have been racing and breeding greyhounds for over 50 years from their home in Co. Waterford.
Breeding many a champion over the years, the most notable being Glen Miner in the 80's, who made it into the Guinness book of records for being the fastest dog over a four-bend track!
Daring Lance was another home bred and owned dog who won the Cesarewitch in Mullingar and held the track record in Waterford.
Jimmy is well known for his volunteer work at Waterford's Kilcohan Park Greyhound Stadium and has held the position of Chairman for the past ten years.
Both himself and his daughter Stephanie along with family friend Peter Woods run the kennels. They keep the kennel small with a few racing dogs and brood bitches (where they welcome one or two litters each year). They also have several race dogs that they have placed with a trainer.
As Stephanie says, "Greyhounds are in my blood, I grew up with them. We love what we do and will continue to race and breed hopefully another few champions in the future and have a few winners on the track along the way!"


Meet the O'Donnells, County Tipperary
Meet the O'Donnell family from Co. Tipperary. Jim, Shari-Anne, Cian, Aoife & James - a family with involvement in greyhounds in many levels. Shari-Anne wrote a brief introduction to the family for us, have a read to get to know them a little better.
"I suppose my interest in greyhounds started when I met my husband Jimmy who was reared with them. We were blessed to have great luck over the last few years under the NewInn prefix and it it's a family affair with my children Cian, Aoife and James always on hand when needed.
It all took off after we purchased a Bitch called "Anytime Soon" who amongst many champions bred NewInn Expert who produced the outstanding "NewInn Taylor". His record speaks for itself winning 16 out of 18 races, including both the Produce Stakes and Boylesports Irish Derby.
But with the highs comes the lows, and our hearts were broken when NewInn Wonder, or as he was known to us "Tiger", sadly passed away earlier this year.
Greyhounds have been a huge part of our lives, and to quote our good friend, the late Maria Byrne, "It's not a job when you love what you're doing".
I've made so many friends and met so many amazing people over the years through our involvement with greyhounds, and our ambition is to continue to breed more Classic winners and enjoy every day!"
Meet the Carberrys, County Meath
Meet the Carberry family from Co. Meath. Peter and Rita, Avril and Alicia and the children - the generations of one family with a shared love of greyhounds. Get them to know them a little better now.
"It's just fantastic… the kids in particular. It's showing them what it takes to care for an animal and how important that animal is in a family. You know, It brings everyone together because you have a shared love for that animal.
And it's no different with a greyhound than any other dog or any other pet that you would have, you know, these are part of our family, that's the way we look at it. I can see that in my own kids, developing that compassion and empathy for caring for something other than yourself is just so important and it's such a great quality that we're trying to raise our kids with.
And it's that shared love that has been passed down from generation to generation of the greyhounds and the sport…. Hopefully our kids will continue that through the generations."

If you cannot see the Carberry's video embedded above, click here to watch on our Youtube channel.
MEET THE MURPHYS, COUNTY WEXFORD
Meet the Murphy family from County Wexford - 4 generations of one family with one thing in common, the love of their greyhounds.
"It brings all the family into it and gets us all working together as a unit, it's a good thing"
Learn more about the family and their story in our wonderful sport now.
If you cannot see the Murphy's video above, click here to watch on our Youtube channel.
MEET THE SCANLONS, COUNTY LIMERICK
Meet the Scanlons from County Limerick – Donie, Kathy, Siobhan, Catriona and Kacie with greyhounds Bingo & Rolly.
The family race under the Ballyelan prefix, a nod to their townland. Greyhounds have a long history in Ballyelan, tracing back to 1934 when Donie's father Jim began training.
For many years there was no greyhounds in the house, but after Donie & Kathy's son Donal passed away suddenly in 2006, their children got them two greyhound pups - a routine and focus to help them through a very difficult time. On 6th August 2008, one of those two pups gave them their first winner, the beginning of a new chapter in the Ballyelan story.
Every year the family sponsor the Donal Scanlon Memorial in Limerick, a way to honour his memory and also give back to the sport they love.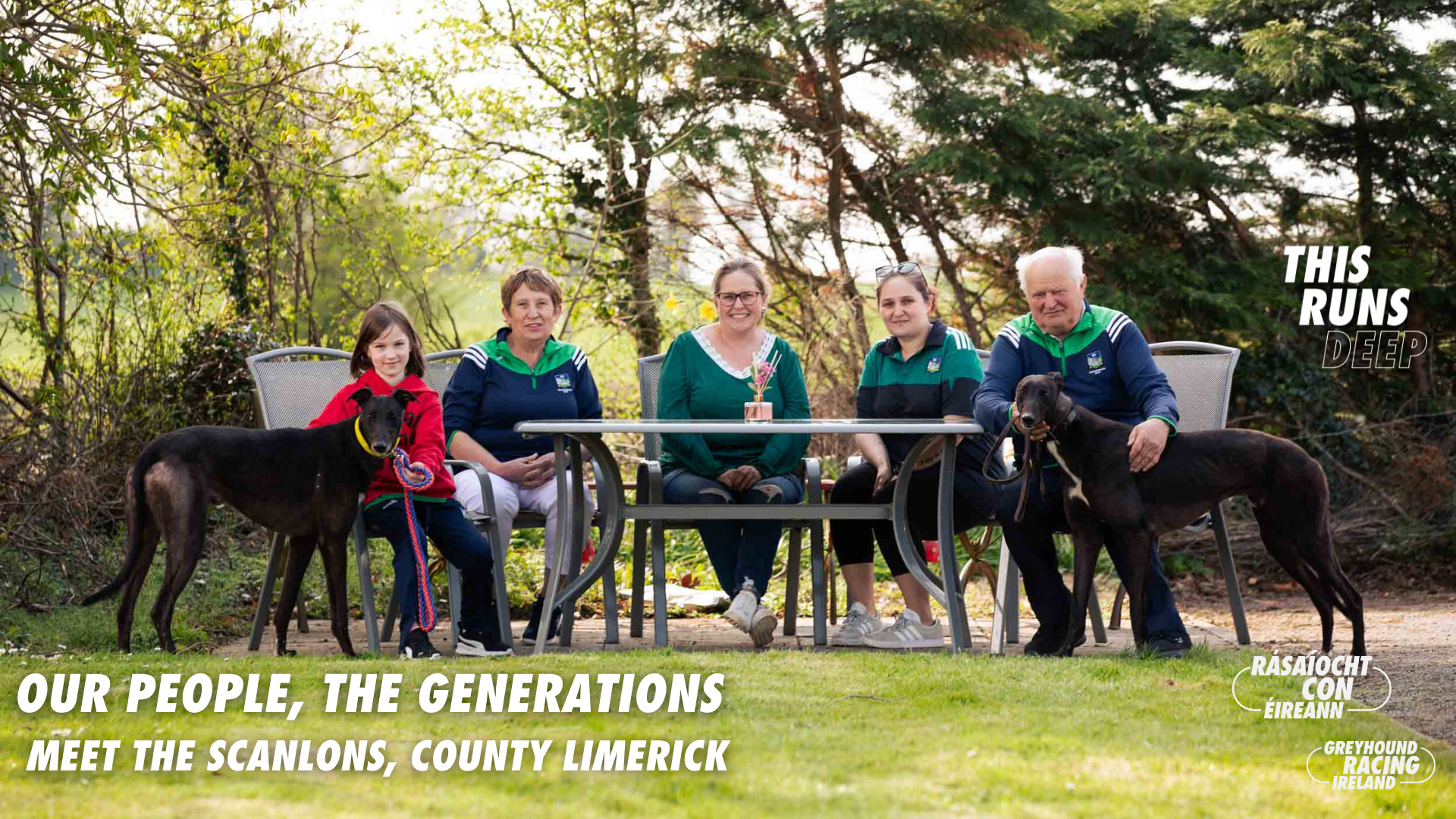 The family run a small kennel with just 6 greyhounds there currently, three racing, one retired mammy and her two 12 month old Pestana pups. Kathy takes charge of the feeding and nutrition, Donie looks after the walking and exercising and when her homework is done granddaughter Kacie arrives to help in any way she can. Kacie is their biggest fan and even has her own Ballyelan clothing range!
Siobhan took the family involvement to another level when she joined the team at Limerick Greyhound Stadium in 2010. In 2014 for her work as Business Development Executive for Limerick and Galway, Siobhan won the Network Ireland Limerick Employee of the Year Award before representing the region in the Network Ireland National Awards.
While Siobhan has moved on to a new job with Limerick GAA, she still plays an important role every spring when the Con and Annie Kirby Memorial rolls around, helping to coordinate the GAA Club involvement.
MEET THE BYRNES, COUNTY DUBLIN
Meet the Byrnes family from Co. Dublin.
From Imelda down through the generations to the her young great-grandchildren, 4 generations of the family share a love of greyhounds.
"It's great for bringing families together...."
Learn more about the family, how they got their Catunda prefix and how they come together for what they love - greyhounds!
If you cannot see the embedded player above, click here to watch on our Youtube channel.
MEET THE DEMPSEYS, COUNTY WEXFORD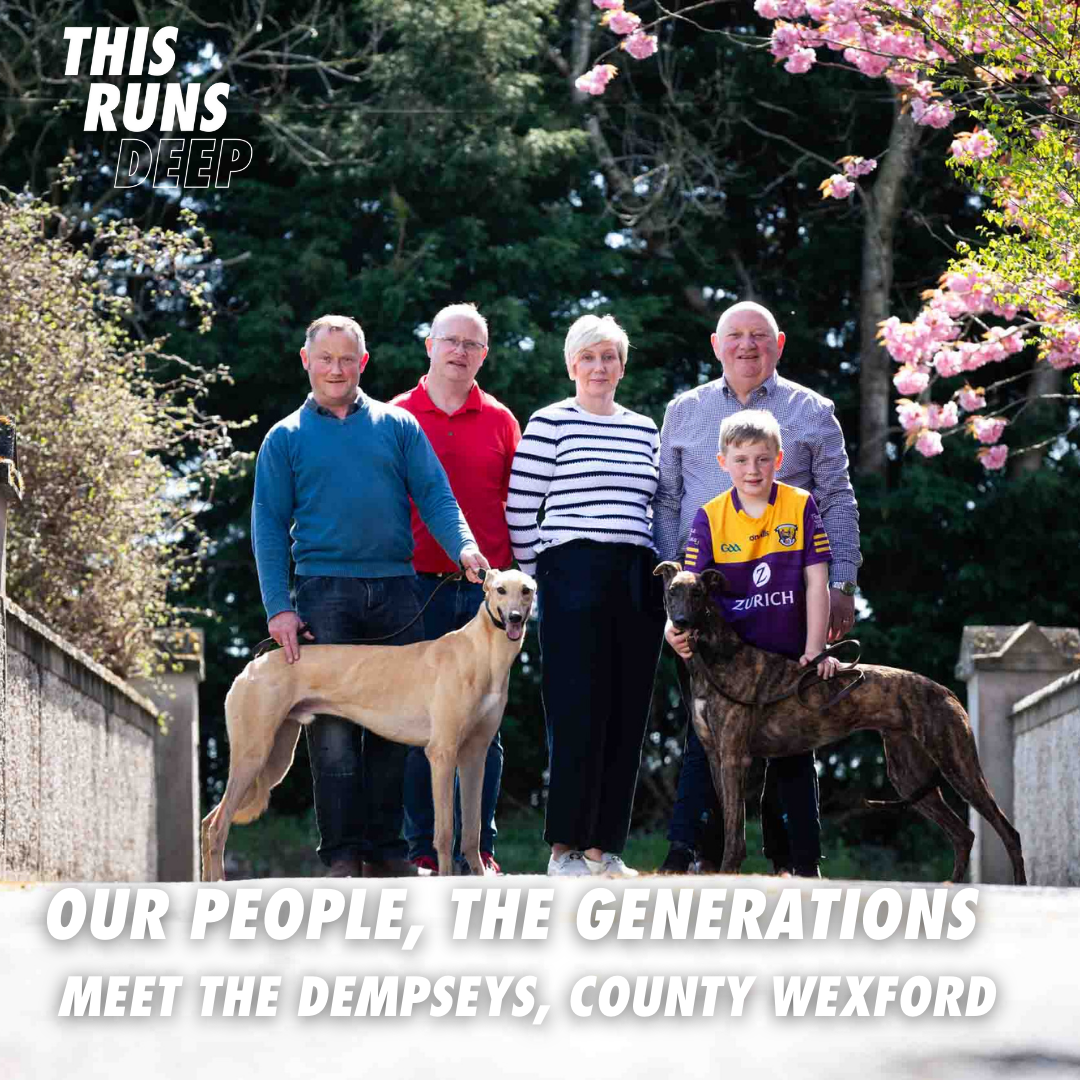 Featuring Gary, Michael, Lorraine, Jamie & Johnny joined by greyhounds Sid & Frankie.
Michael will be recognisable to trainers and owners across the country as he has served as Racing Manager in not 1 but 4 stadia. He commenced his career in Lifford, moved to Dundalk, followed by a stint in Enniscorthy and is now part of the Leinster Racing Office with responsibility for Shelbourne Park.
Michael & his brother Gary inherited their love of greyhound racing from both sides of the family with both his father's family (The Dempseys) and his mother's side (The Donohues) well known in Wexford greyhound racing circles. Their maternal grandfather was a Bookmaker in Enniscorthy Greyhound Stadium and his Paternal Grandfather had track racers as far back as the 1930's.
Their uncle Johnny (Donohue) served as a Board Member in both Enniscorthy and Kilcohan Park Greyhound Stadia.
Believe it or not greyhound racing even helped with Michael's love life! He met his wife Lorraine at Kilcohan Park Greyhound Stadium when she was on a girls night out - so greyhound racing helped to bring them together!
Their son Jamie is now carrying on the tradition as he can be seen helping Uncle Gary on a weekly basis with their racers Sid & Frankie, ensuring that the next generation of Dempseys will carry on the family sport!
MEET THE FITZGERALDS, COUNTY CLARE
Tom, Rose and sons Mark & Shane with their retired racers Holly & Ollie - Proud Clare People!
This really is family affair as the Fitzgeralds breed, rear and train their own greyhounds in Parteen, Co. Clare. They race under the "Ocean" prefix, which incidentally has been their family prefix since 1928!
Tom inherited his love of greyhound racing from his dad, Tom Senior, who inherited his interest from his Grandfather.
Tom is well known in the Mid-West greyhound circles as he is currently serving as the Chairman of the Advisory Committee for Limerick Greyhound Stadium where he also does most of his racing.
One of his own best memories?
It must be winning the Con Kirby Memorial back in 2011. This was the precursor to the popular Con & Annie Kirby Memorial event that is hosted currently.
VIDEO: OUR PEOPLE, THE GENERATIONS - IT RUNS DEEP
THE O'DONNELLS, THE BUGGYS & THE SCANLONS
Across Ireland, generations of families work together behind the scenes in Irish Greyhound Racing.
They all share a love for their greyhounds, a passion for their sport and a deep sense of pride in what they do.
The video features:
The O'Donnell Family from Co. Tipperary
The Buggy Family from Co. Carlow
The Scanlon Family from Co. Limerick
As part of the Our People, The Generations series, we'll be spotlighting just some of the wonderful people in greyhound racing through photos and videos to share their stories. Keep an eye out over the coming weeks to learn about them.
THE DEMPSEYS, THE MAGUIRES & THE MULLINS
The video features:
The Dempsey Family from Co. Wexford
The Maguire Family from Co. Waterford
The Mullins Family from Co. Galway
THE HENNESSYS & THE FITZGERALDS
The video features:
The Hennessy Family from Co. Kilkenny
The Fitzgerald Family from Co. Clare
BEHIND THE SCENES - A SNEAK PEEK AT OUR PEOPLE, THE GENERATIONS IN THE MAKING
If you cannot see the embedded video above, click here to watch on our Youtube channel.