What's Happening at Curraheen Park
A1 Kasko Derby at Curraheen Park
Congratulations Jacktavern Bolt 🏆
Trap Draw
THE KASKO DERBY FINAL 21:35 APPROX
Trap 1 MENDELSON
Trap 2 JACKTAVERN BOLT
Trap 3 DA GONZO
Trap 4 REBEL OCEAN
Trap 5 BARTLEMY DROOPY
Trap 6 STRIKE IT ALICE
Photos: Round 3 of the Kasko Derby at Curraheen Park
Photos: Round 2 of the Kasko Derby at Curraheen Park
Videos: Round 2 of the Kasko Derby at Curraheen Park
TALKING DOGS ON THURSDAY EPISODE 139: BRIAN COLLINS & MOSSY O'LEARY
It's all things Cork this week as Barry and his two guests highlight the Kasko Derby, with Round two taking place this weekend.
Barry starts by chatting to the Racing Manager of Curraheen Park, Brian Collins. They chat about the fantastic upcoming events happening in the stadium, and look back at some stand-out performances from last week's Kasko Derby opening round.
Next, Barry speaks to Mossy O'Leary of Kasko. They chat about Mossy's own passion for Greyhounds, be it breeding or racing. "A labour of love" he calls it.
They chat more about the wonderful sponsorship of the Kasko Derby and how it came to be, and lastly Mossy also gives us a run down on a couple of the great quality Kasko products to look out for!
Have a listen now!
If you cannot see the embedded player above, click here.
Videos: Round One of the A1 Kasko Derby at Curraheen Park
A1 KASKO DERBY PRODUCES FANTASTIC NIGHT OF RACING AT CURRAHEEN PARK
Barry Drake
The opening round of the €6,000 to the winner A1 Kasko Derby produced fantastic racing at Curraheen Park on Saturday night.
Both Kieran Lynch and the O'Mahony family enjoyed superb trebles on the night.
KIERAN LYNCH TREBLE
The quickest run of the night came from Peroni Eoiny in heat number six.
Trained by Kieran Lynch for owners the Hold-On-To-Your-Hat-Synicate, the 6-4 second choice of the punters was in front early and he displayed massive pace throughout. A 28.20 winning run, a length and a half-length clear of Orchid Legacy.
In the second heat, December puppy Bartlemy Droopy delivered a high class performance to beat the running on Commons Rebel. Trained by Lynch for Liam Mannix and Patrick Pyne, the 2-1 shot made it two wins from just career outings when stopping the clock, in 28.44, half a length clear of the runner up.
In heat seven, Rebel Ocean completed the Lynch treble when winning for owner Vincent O'Keeffe. The October youngster, a 5-2 chance, was in front early and he kept finding in front to beat Mendelson, by a length and a half, in 28.53.
O'MAHONY FAMILY TREBLE
It was a night to remember for the O'Mahony family, three Millridge winners in Cork and Millridge Levi into the quarterfinals of the Boylesports Irish Greyhound Derby.
In heat five, Millridge Timmy showed plenty of early dash to win for Caoimhe O'Mahony. An outstanding display to win, in 28.51, three and a half lengths clear of Newlawn Dubh.
In heat eight, Millridge Bobby was another to lead all the way. Owned by Stephen O'Mahony, the 2-1 shot was quickest into stride and he always looked good up front. A 28.55 winning run, a length and a half behind Bartlemy Sham.
Millridge Zara completed the treble when winning the closing race on the card for Donal O'Mahony. Leading at the opening corners, the 5-2 shot went on to win, in 28.71, a length clear of Romeo Atomic. (A0).
IN OTHER RACES
The opening heat went the way of Jacktavern Bolt for trainer Graham Holland and owners the Pillar-Syndicate.The 4-5 market leader made the most of the drop in class to win in style. The October puppy clocked 28.34, six and a half lengths clear of Priceless King.
Paul Keniry's Dellser Bells (Evens) made the most of the rails pitch to land heat three. A strong all round winning performance to win, in 28.51, five lengths clear of Joyces Bocko.
Heat four went the way of Ballymac Opera for Liam Dowling. The 6-4 joint favourite hit top gear at halfway and she flew home to land the spoils, in 28.65, six lengths clear of Witches East.
In the seventh of the night, an AA0, Galloping Sydney showed all of his speed and class to win for trainer Graham Holland and owner Una Creed. A masterclass performance from the flying early pacer as the 6-4 favourite stopped the clock, in 28.28, three and a half lengths clear of Droopys Rocker.
Young trainer Ryan McCarthy was on the scoresheet in heat number 10, Strike It Merlin winning in 28.93 at odds of 5-2. The December puppy was making it back to back winning performances, a short head clear of Ballinacarriga.
In heat 10, Burgess Bolger was a winner for Sheila Spillane and JJ Fennelly. It was messy enough affair early on, but the 2-1 shot took full control from halfway and went on to win, in 29.05, three quarters of a length clear of Boss Go.
********************************
Congratulations Ballymac Run - Winner of the 2023 Shelly Fennelly Memorial
CONGRATULATIONS FLASHING WILLOW - Winner of the 2023 Greyhound & Pet World SuperSprint 🏆
Flashing Willow, winner of The 2023 Greyhound & Petworld Supersprint Final. Photographed with Brian Collins, Alex Grassick, Darren Hogan, James Corden, Liam Murphy and Jeremy Winter.
Photo: Finalists Profiles
Photo: Round One
Curraheen Park Greyhound Stadium has announced that Apex Global Resources as the title sponsors of the 2023 Cork Oaks, which takes place over 3 weekends during March. The event which first commenced in Curraheen Park in 2001 and was previously hosted in the stadium in the Western Road, is for 24 open class bitches with a winners' prize of €5,000 & trophy.
The partnership will be the first time that Apex Global Resources have worked with Curraheen Park Greyhound Stadium. The event which is expecting a strong entry is seen as the curtain-raiser for The Oaks competition calendar nationwide.
Talking Dogs on Monday 20th March 2023

Pictures and videos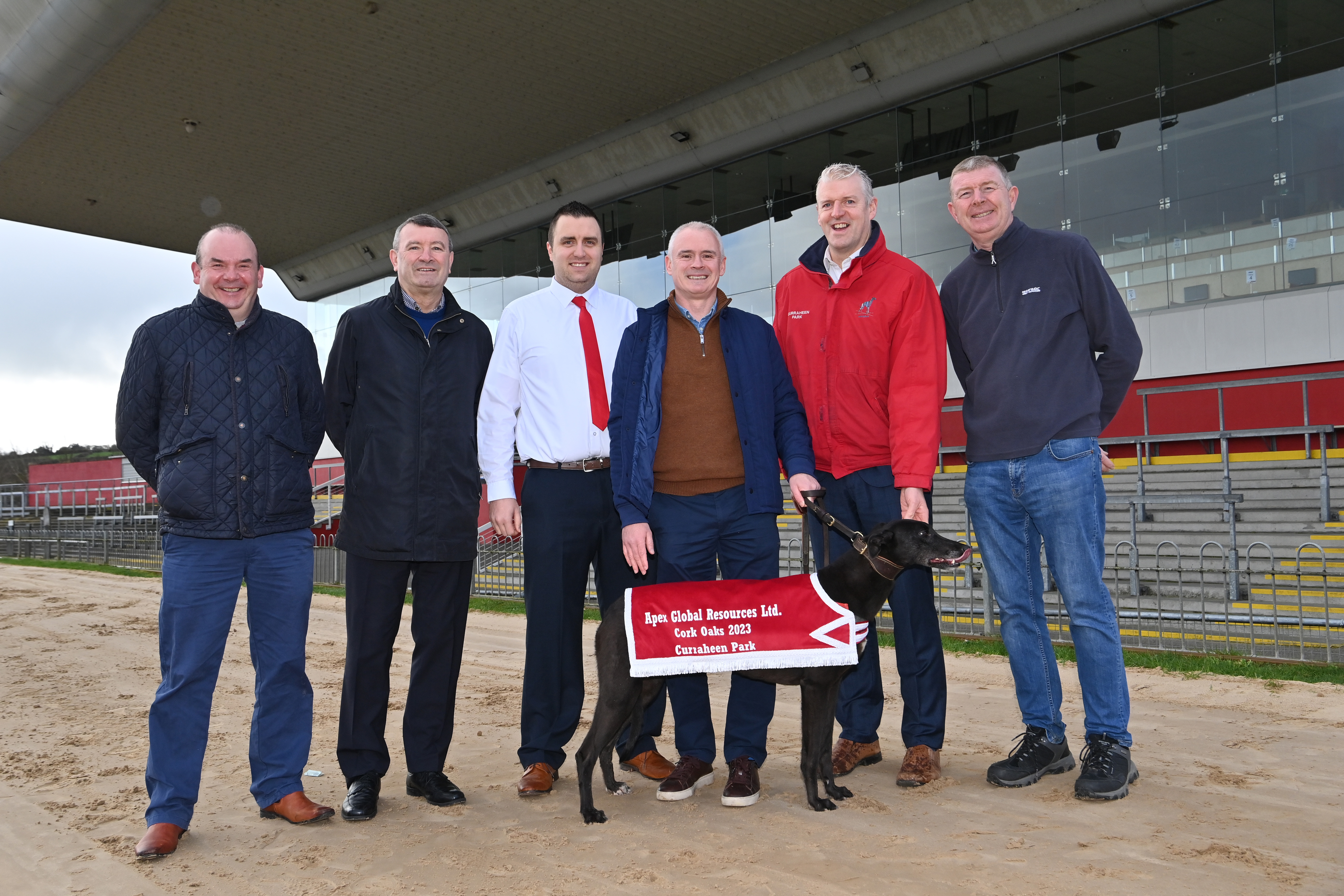 Talking Dogs on Thursday
Episode 121: Ian Reilly and Willie Rigney Talking Dogs on Thursday
If you cannot see the embedded link click here
Betting with the Tote
The tote is a "pool betting" system. All money placed on a race is put into a pool, the tote retains a percentage of this pool with the rest shared between the winning ticket owners. Tote screens are a guide to the price at the moment you place your bet but the actual price isn't known until the betting closes at the sound of the bell – the indicator for the start of the race.
Types of Bets

Win : Pick one dog to win, if your greyhound wins – so do you! Minimum bet €2
Place: Pick one dog to come in either first of second place, if the dog comes in first of second – you win! Minimum Bet €2
Each Way: This is a win bet plus a place bet on one single greyhound. Your dog must come in first or second for you to claim winnings. If the dog wins you collect the win and the place bet, if your dog comes in second you will receive the place bet winnings only. Minimum bet €4
Forecast
Straight Forecast: Pick a dog to come in first and another dog to come in second place. The dogs must come in in the correct order for you to collect winnings. Minimum bet €1
Reverse Forecast: Pick two dogs to finish in either first or second place. Dogs must come in first and second in any order for you to win. Minimum bet €2
Forecast All Ways: Pick three dogs and two of the dogs must come in first or second place in any order to collect on this bet. Minimum €6
Trio
Straight Trio: Pick three dogs to come in first, second and third and dogs must come in in the correct order you choose for you to win. Minimum bet €1
Trio All Ways: Pick three dogs and the three must come in first, second and third place in any order. Minimum Bet €6

Now all that's left to do is choose your dog, cheer them on…and cross your fingers! All of our friendly tote staff will be more than happy to explain any of the different bets to you on the night, in the meantime why not study the form on www.igb.ie, where you will find all our upcoming race cards, and get picking your preferred type of bet!